St. Patrick Catholic School values our relationship with the families in our school and parish and we honor the sanctity of the family as the primary educators of the faith in their children.  The school hosts many events and activities to engage our faculty, staff, students and our families in fun, cultural events that support the diversity of our school and parish.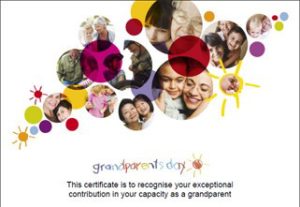 Grandparents Day is an excellent way for families and their students to come together. The contributions that grandparents make to schools are immeasurable. As you know, many grandparents are highly involved in their grandkids' schooling. They drop-off and pick-up their grandchildren, they attend school sporting events and performances and many volunteer their time to assist with reading activities. We encourage children to think about the value of the grandparents in their life.
The Waverly Parade is celebrated each year on July 4th with a St. Patrick Catholic School float and our students, staff and families gather together to show off our Shamrock school pride!
Daily Mass – Families are encourage to attend Daily Mass at St. Patrick Catholic Church, along with our students and staff.  There is nothing so sweet as hearing our children participate, sing and pray in Mass every day.
Basketball Clinic hosted by Pius X coaches –  The goal of these sessions will be to teach and develop individual skills and basic fundamentals used to excel in the game of basketball. Coaches will put the players through individual drills that emphasize ball-handling, shooting, and passing which help them build a fundamental base to their game. Fundamental sessions will be based on age and ability levels so each player has a chance to learn and succeed.