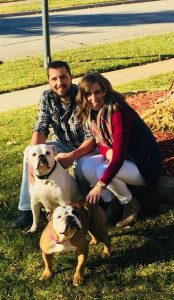 Mrs. Abby Rezac is the first grade teacher here at St. Patrick Catholic School, and she is very excited for the upcoming year and what it has in store for!
She graduated from the University of Nebraska at Lincoln in May of 2009, and from college went on to teach at Lincoln Public Schools for one year. In 2011 she began teaching here at St. Pat's.
She loves working with children and seeing them grow in more ways than one, and appreciates the atmosphere of teaching. Meeting new students, families, and working with her fellow staff members is her favorite!
She was married on August 6th, 2011 to her husband Ryan. They have two dogs, an Old English Bulldog, Jax, and an English Bulldog, Talulah.
In her spare time, she enjoys watching movies, spending time with her family and friends, and cheering on the Nebraska Cornhuskers!