Upcoming Dates
Friday October 7th
Saturday October 8th

Free Coats for Kids event

Monday October 10th

NO SCHOOL

– Teacher In-Service

Tuesday October 11th

NO SCHOOL

– Teacher Meeting & Workday

Wednesday October 12th

KFC/ Long John Silvers 5-8pm – Dine in ONLY

Friday October 14th

Trunk or Treat
Last day to wear uniform shorts until March 15

Monday October17th

NO shorts – all students need to wear uniform pants or ankle-length leggings with uniform skirts/ jumpers

October 18th

Final Home Volleyball Game – 5:45
---
Trunk or Treat
We need YOU to host a trunk or volunteer!  Please sign up to volunteer at https://bit.ly/22PatTOT – we need lots of 'trunks' and helpers to make this night a success!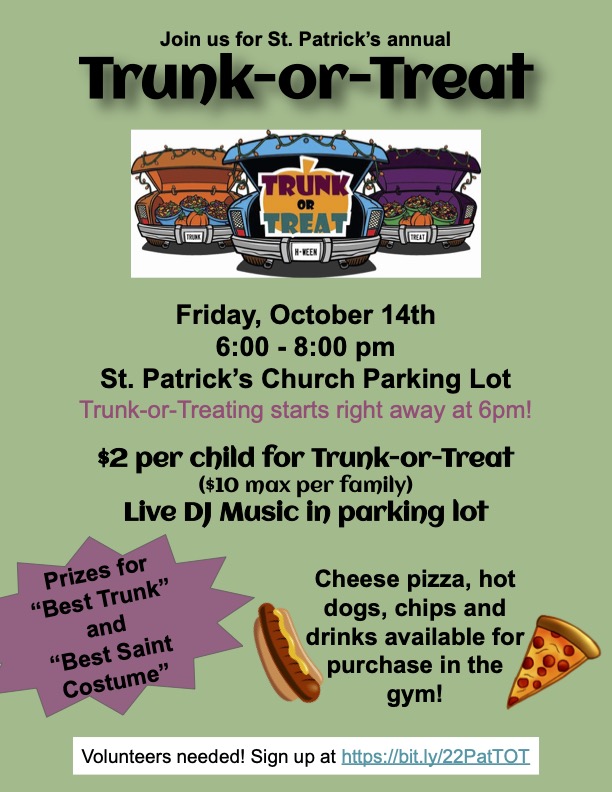 ---
KFC/ Long John Silvers Dine Out Night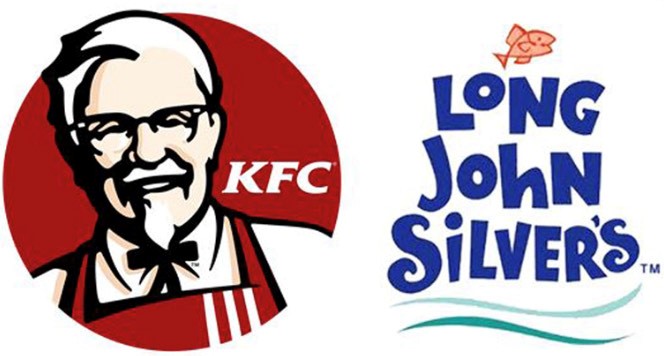 Join us for dine out night at KFC / Long John Silvers on 84th & Holdredge from 5 to 8 pm on Wednesday, October 12th – Dine in ONLY . St. Patrick will benefit from 20% of ALL sales that night! Tell your friends!
---
Student Dress Up – All Saints Day

St. Patrick students are encouraged to dress as a saint or Bible character on Monday Oct. 31st to recognize the Holy Day, All Saints Day, on Tuesday Nov. 1st. Students will go through their entire day in costume.
Please keep  recess and lunch in mind when planning costumes!
---
St. Patrick Festival Coordinators Needed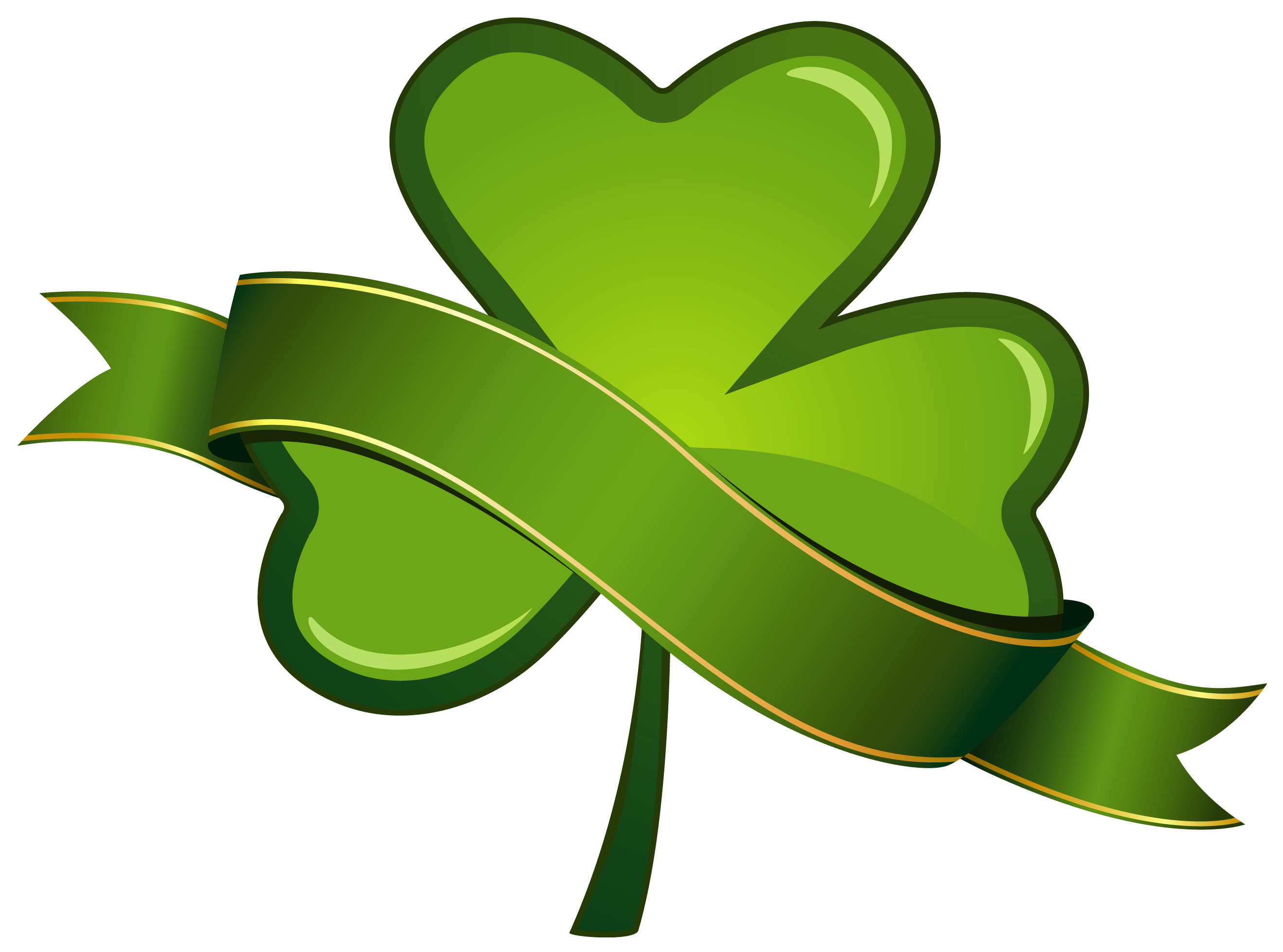 The St Patrick Festival committee is looking for a few people to take over smaller parts of the festival as we have members stepping down.  We are looking to fill Raffle ticket and Carnival/game coordinators. We have team members that are able to assist and provide quality turnover and resources for you to continue the processes that are already in place.  Another option that was suggested is a 5k fun run at the beginning of the day to kick off the festival weekend.  Please contact Nic or Leah Bethune for more information.  402-432-2042 or 402-432-2384. Thank you.
---
Family of the Day
We thank God for our St. Patrick 'Family of the Day'
October 12th – Ferretti Family
October 13th – Folsom Family
October 14th – Franklin Family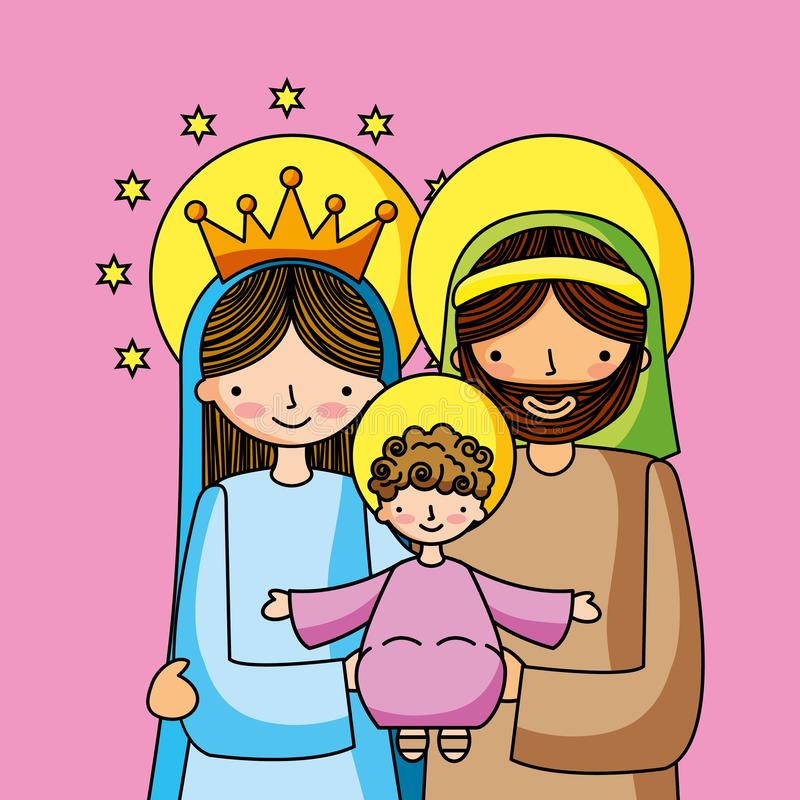 The Holy Family Prayer
JESUS, Son of God and Son of Mary, bless our family. Graciously inspire in us the unity, peace, and mutual love that you found in your own family in the little town of Nazareth.
MARY, Mother of Jesus and Our Mother, nourish our family with your faith and your love. Keep us close to your Son, Jesus, in all our sorrows and joys.
JOSEPH, Foster-father to Jesus, guardian and spouse of Mary, keep our family safe from harm. Help us in all times of discouragement or anxiety.
HOLY FAMILY OF NAZARETH, make our family one with you. Help us to be instruments of peace. Grant that love, strengthened by grace, may prove mightier than all the weaknesses and trials through which our families sometimes pass. May we       always have God at the center of our hearts and homes until we are all one family, happy and at peace in our true home with you. Amen.
---
Coats for Kids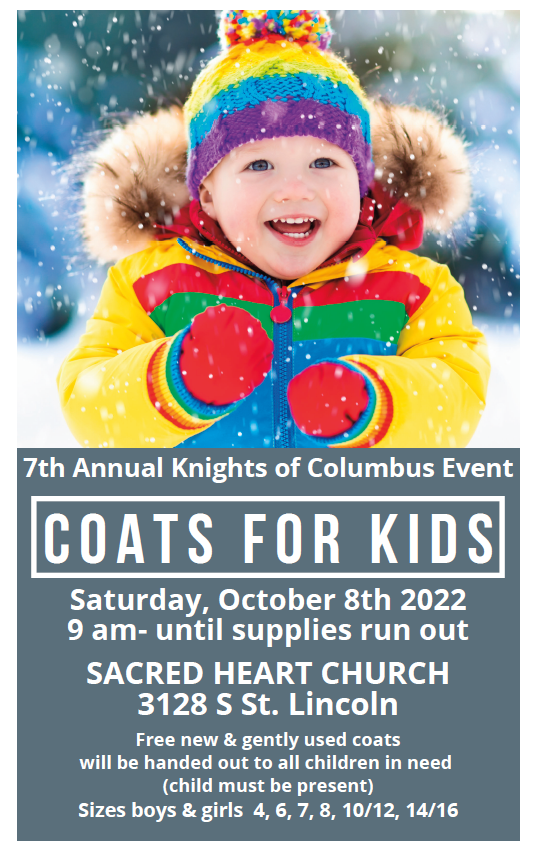 ---
Uniform & Spirit Day Order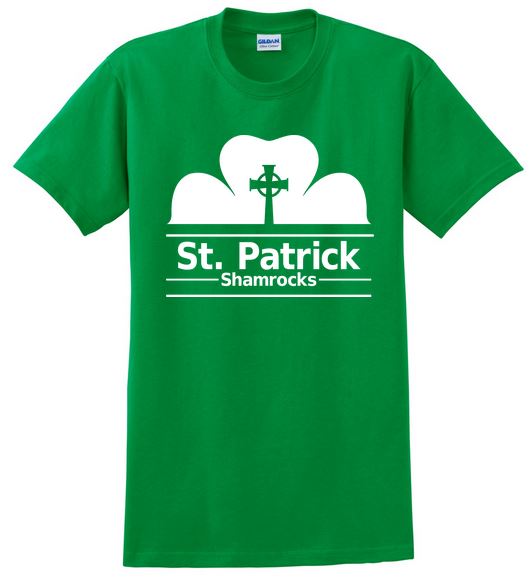 ArtFX has opened the uniform store again for families who wish to purchase Spirit Day t-shirts or uniforms items with the school logo.  The online store will close October 28th  – items should be delivered before Thanksgiving Break.  This is a great time to get Shamrock Christmas gifts!
Order Here:  https://stores.inksoft.com/st_patrick_catholic_school/shop/home
---
Asbestos Update
Asbestos Update:  In compliance with federal law, St. Patrick Catholic School has conducted three professional asbestos inspections (1987, 1991, and 1994) and has developed and followed asbestos management plans according to the findings of each inspection.  St. Patrick Catholic School is asbestos free.  Anyone interested in reviewing the school's asbestos management plan may do so by contacting the school.  The asbestos program manager for the Diocese of Lincoln is Ron Prochaska who works for Alfred Benesch and Company 402-479-2200.
---
Home and School Corner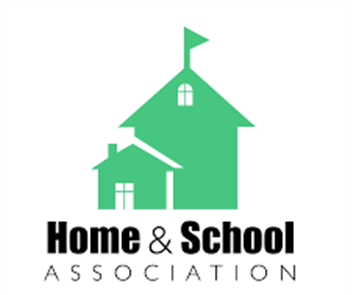 The Home and School Association held their October meeting on Wednesday Oct. 5th.  The next board meeting is scheduled for Nov. 2nd.
HSA is in need of a volunteer to serve on the HSA board as Vice President. The primary responsibility of Vice President is to attend monthly meetings on the 1st Wednesday of the month, organize volunteers for the fish fry fundraiser, and assist the President as needed. The Vice President will take over for the president when the president's 2 year term is over. If you are interested you can contact the school office or Tonia Wasser at 402-416-0069 or email toniaw79@hotmail.com.
---
Shamrock Volleyball Schedule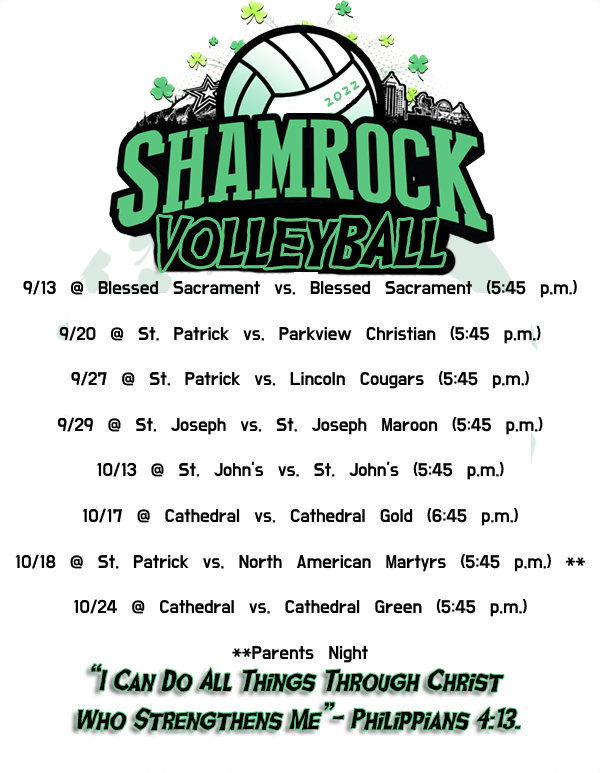 ---
Lunch Menu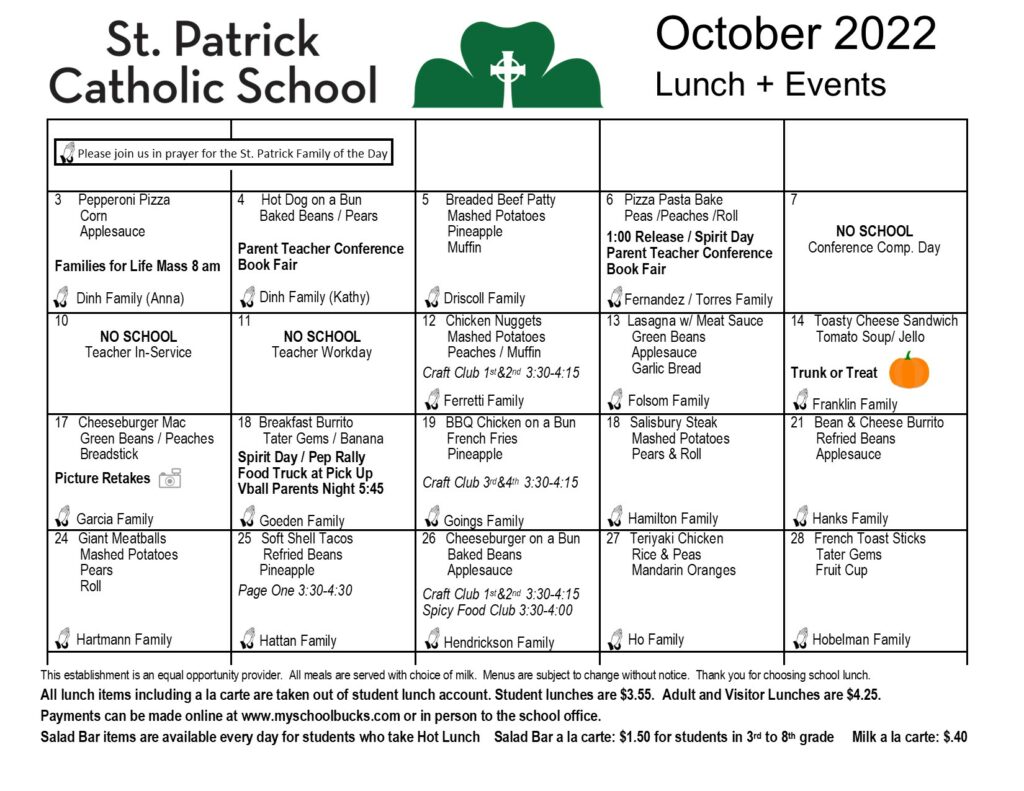 ---
Area Events
Parish Groups & Events
Please call the rectory for additional details.
Legion of Mary – Thursdays at 4:00 p.m.
St. Patrick Mom's Group – Wednesdays at 10:00 a.m.

Any interested Mom is welcome, and should call Monica Ottinger for details (402-490-5178)
October Diaper Drive
Diapers and other baby items for families in need will be collected throughout the month of October.  Donations may be made to the pack in play in the church atrium!
CK Sisters Outdoor Fall Workday
Sat., Oct. 22, 1:30-4:30 p.m. We will be planting trees, cleaning up our vegetable garden and cutting trees.  Helpful items to bring include shovels, work gloves, wheelbarrows, pickups and chainsaws.  Children are also welcome – and can use this for service hours!  Mark your calendars now and contact Sister Mary Angela at sr.mary-angela@cdolinc.net if you would like to come and help. Villa Regina Motherhouse, 4100 SW 56th St., about 2 miles west and south of Pioneers Park. (Walk-ins also welcome.)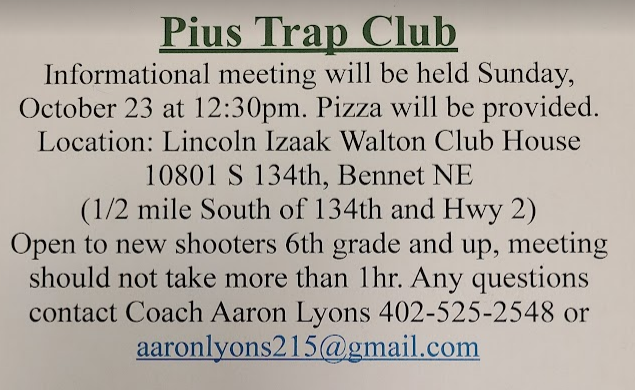 ---
School Messages

---
Classroom Wishlist


Many teachers have updated their classroom wish lists!  Purchasing an item from the wish list is a great way to say THANK YOU!
Check out all of the lists here:  Teacher Wishlists | St Patrick's Catholic School (stpatricklincolnschool.com)
---
Home and School Board 2022-23

---
Pius X High School Parent Association
Pius X High School Parent Association representative for St. Patrick's parish is BJ Hobelman. BJ can help you find answers to Pius X High School -related questions.
She can be reached at 402-466-3710 or BJ-Hobelman@cdolinc.net
---
Fundraisers
SCRIP
What is Scrip? "Scrip" turns everyday shopping into cash for the St. Patrick Church and School. Purchase gift cards at face value in advance to use at checkout, instead of paying with credit, debit card, check or cash.
How Does It Work? Purchase gift cards at face value from local merchants who designate their own discount percentage ranging from 1.5% to 30%. The discount amount translates to profit for the St. Patrick!
$50 Marcus Theatres gift card at 8% = $4 St. Patrick profit
$100 Walmart gift card at 2.% = $2.50 St. Patrick profit
Click here for the SCRIP order form.  SCRIP can be purchased at the parish office or after weekend masses.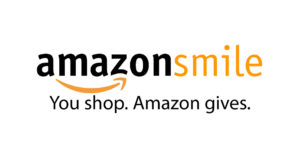 Start your Amazon shopping at smile.amazon.com – Tap the image above or search for 'St Patrick Catholic Church of Lincoln' and a percentage of all of your Amazon purchases will come back to St. Patrick!

We're excited to share that our school is participating in Cash for Classrooms, part of Casey's Rewards. This opens up St. Patrick School to new funding opportunities to help improve learning environments for students.
The best part? Donations don't come out of your own pocket. When you buy from Casey's and use their rewards program you can simply turn your points into a donation to our school.
Help St. Patrick School make the most of this program and learn more at Caseys.com/schools.

Go to the Coca Cola Website, search for St. Patrick School, or type in the zip code 68507, scroll down to the one in Lincoln NE and then enter the Coca Cola product code under the bottle cap on your computer screen or scan it from your phone.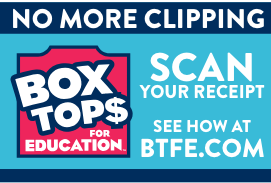 Box Tops are now digital only! You can download the app Box Tops for Education, register and select St Patrick School, and then scan eligible receipts containing Box Tops products. Online retailers that are eligible: Instacart, Jet.com, SamsClub.com, Shipt, Target.com, Target Pick-Up/Drive-Up, Walmart Grocery, Walmart.com.
Traditional Box Tops are being phased out and we are no longer receiving enough to mail in so please direct your efforts towards the digital app. Thank you to everyone who has contributed box tops over the years!
Digital Box Tops FAQ
Where do I go to enter Box Tops digitally? Download the Box Tops for Education App or visit https://www.boxtops4education.com/ to learn more
How long are Box Tops receipts eligible for scanning? Scan your receipts within 14 days of purchase.
What products are eligible?: Download the full list of eligible products here: https://www.boxtops4education.com/en/Participating-Products-Page or just look for the Box Top logo on products you purchase.
Can I still clip and send in physical Box Tops? Unfortunately no, we are no longer receiving enough to make it worth sending in for payment.
What if I shop online? Submit your email receipts to receipts@boxtops4education.com
How do I help earn more? Scroll down to the bonus offers on the Box Tops App to learn how to earn extra.

We are excited to tell you that we have started an Ignatius Book Club for our school! Ignatius Book Club is a wonderful Catholic organization that provides thoughtfully selected books and materials from leading publishers that entertain, instruct, and inspire for a variety of reading levels and interests.
Plus, every purchase you make through Ignatius Book Club earns bonus points which can be redeemed for books, religious products, or school supplies for our school!
Click HERE to join and start browsing Ignatius Book Club's extensive selection of wholesome material
---
Athletics
Introducing a mobile-friendly website for Catholic School athletics, www.cysi.org
League Information & Rules, League Policies, Registration & Participation Forms, Mission Statement, Philosophy, Sports Calendar (that is constantly being updated), and much more. In addition to our own league's information, you will find material on the football and wrestling programs at Pius X High School.
If you have any questions please do not ever hesitate to reach out to our school's Athletic Director – Mr. Ryan Mackling
Previous School Newsletters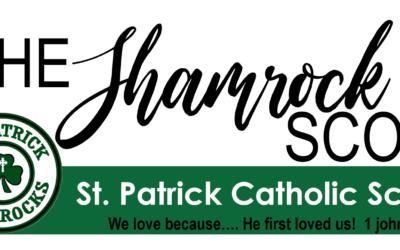 Upcoming Dates Friday October 7th NO SCHOOL - Comp. Day Saturday October 8th Free Coats for Kids event Monday October 10th NO SCHOOL - Teacher In-Service Tuesday October 11th NO SCHOOL - Teacher Meeting & Workday Wednesday October 12th KFC/ Long John Silvers 5-8pm...