Celebrating the Feast of St. Teresa of Calcutta (Mother Teresa)
We had a wonderful time celebrating the feast day of St. Teresa of Calcutta and learning about her life and impact on our world.  The students snacked on white and blue popcorn to symbolize Mother Teresa's simple white sari with three blue stripes on the borders.  Her way of peace was not complicated and one we at St. Patrick School strive to imitate: It starts with prayer, and a smile, and seeing Jesus in each and every person!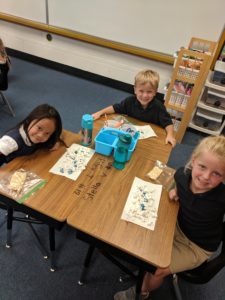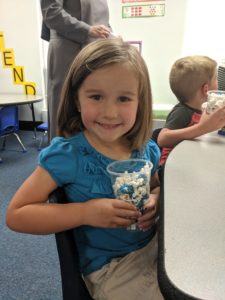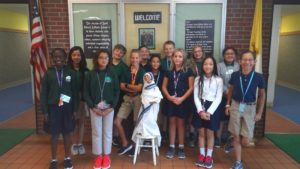 ---
First Friday Collection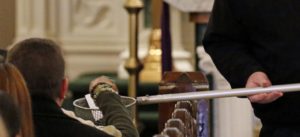 The 5th grade class will take up a collection at mass on the First Friday we have a full day of school each month. Students may bring coins from home if they choose. This is a great lesson for our students in charity and selflessness.
All proceeds will go to a different charity each month. The September 6th charity is The St. Gianna Home – learn more about The St. Gianna Home HERE! Thank you for your generosity!
---
Extended Care & Lunch Billing
Bills for Extended Care and Hot Lunch will be sent home every 2 weeks on the last school day of the week with your youngest child.  Extended Care notifications will also come to your email.  All Extended Care payments should go through FACTS.  We can take payments for hot lunch in the school office – please mark your check or envelope 'lunch payment'.
Questions about your bill?  Call our finance office at 402-466-2752
---
Food Market – 3rd Tuesday of every month
Catholic Social Services (CSS) has partnered with the Food Bank of Lincoln to provide healthy choice options for our school families at no cost!
The CSS Food Market will be open from 3:00-4:30 and located in the St. Patrick Church Social Hall.
All families are welcome to walk through the Market selecting items for your family. Fresh fruit, eggs, bread, and more!
---
St. Patrick Text Notifications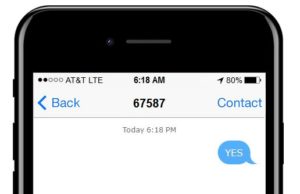 To ensure you are receiving our school text notifications, simply text YES to 67587
Notifications may include school reminders or provide helpful information in case of an emergency.
---
St. Patrick Uniform Order
(Polo, Fleece, Sweatshirts)
The online store for St. Patrick uniforms with our school logo is open and will close September 16th.  To place your order click HERE
Reminders:
Students DO NOT need to wear uniforms with logos.
Students may wear plain polo's or non-hooded sweatshirts/sweaters in green, white, or navy blue.
St. Patrick School hooded sweatshirts with the St. Patrick logo are being phased out, but will be allowed for the 2019-20 School Year.  Beginning in the fall of 2020 St. Patrick hooded sweatshirts will only be allowed as a light jacket.
The learning atmosphere is promoted when students present their best self and practice this discipline – thank you!
---
Dine Out Night – Taco John's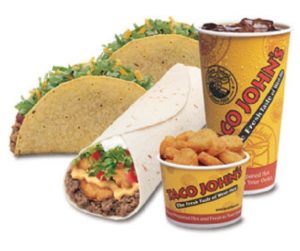 Dine out night on Wednesday, September 25th from 5 to 9 pm at Taco Johns on 2301 N 84th St. 10% of ALL sales will come back to St. Patrick School. Thank you for your support!
---
2019 Pumpkin Run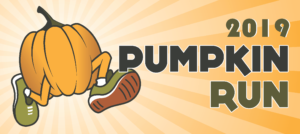 The 18th annual Pumpkin Run is a 1-mile youth cross-country fun run, the largest run of its kind in the nation! Find out more HERE or contact Mr. Mackling at the school for additional information.
DATE: Saturday, October 5, 2019
LOCATION: Pioneers Park – Lower Level, Lincoln (View Map)
TIMES:  Session 1 – Small Schools/Non-LPS Schools: Heat 1 starts at 9:30 a.m.
---
Ignatius Book Club

We are excited to tell you that we have started an Ignatius Book Club for our school! Ignatius Book Club is a wonderful Catholic organization that provides thoughtfully selected books and materials from leading publishers that entertain, instruct, and inspire for a variety of reading levels and interests.
Plus, every purchase you make through Ignatius Book Club earns bonus points which can be redeemed for books, religious products, or school supplies for our school!
Click HERE to join and start browsing Ignatius Book Club's extensive selection of wholesome materials
---
Full Day Care Option
September 27 and October 4
NO SCHOOL DAYS
If you are interested in full day care for your Prek – 5th grade student, please contact the school office.  If you turned in an interest sheet from the summer mailing – we have your place held.
The deadline to sign up for September 27th is Thursday September 12th.
The deadline for full day care on October 4th is Thursday September 26th.
---
LINCOLN MOTHERS ON A MISSION (MOMs)
MOMs will be meeting Saturday, September 7, @ 8:30 am. "Discerning God's Will in the Age of Social Media" with Becky Deaver. Lincoln Mothers on a Mission (MOMs) is a group of Catholic mothers searching for fellowship, hope, & joy in our ever-changing vocation. Monthly meetings are held every first Saturday, 8:30-10:30 am at Gianna's Java & Gelato, in The Guadalupe Center located at 2241 O Street. Contact us at lincolnmomgroup@gmail.com or www.facebook.com/lincolnmothersonamission.
---
Fundraisers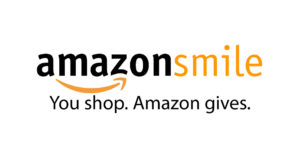 Start your Amazon shopping at smile.amazon.com – Tap the image above or search for 'St Patrick Catholic Church of Lincoln' and a percentage of all of your Amazon purchases will come back to St. Patrick!

Go to the Coca Cola Website, search for St. Patrick School, or type in the zip code 68507, scroll down to the one in Lincoln NE and then enter the Coca Cola product code under the bottle cap on your computer screen or scan it from your phone.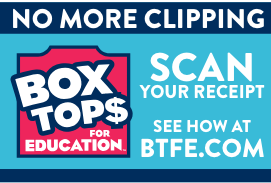 Box Tops are going digital! You can download the app Box Tops for Education, register and select St Patrick School, and then scan eligible receipts containing Box Tops products. Online retailers that are eligible: Instacart, Jet.com, SamsClub.com, Shipt, Target.com, Target Pick-Up/Drive-Up, Walmart Grocery, Walmart.com.
Traditional Box Tops are being phased out and are still eligible to be clipped and dropped off at school until they expire. You can also double dip during this transitional phase by both clipping the Box Tops and scanning the receipts!
(Some brands are not yet participating in the digital program and these will need to be clipped as usual including Hefty, Kleenez, Progresso, Reyolds, Scott, Ziploc and Finish)
---
School Day Basics
The school day runs from 8:00 – 3:20.
Students can be dropped off beginning at 7:40 and will gather on the south side of the school with Mrs. Placek. Doors open at 7:45.
Students should be picked up by 3:30.  Students who are not picked up by 3:30 will be checked in to extended care.
Students arriving after 8:00 are counted as tardy.  Please call or email the school if your child will be absent.
Students needing extended care are welcome from 7 a.m. to 6 p.m. at a rate of $0.90/15 minutes.
Please do not remove cones from the parking lot as they are used to keep cars out for school recess
---
Pick Up – Drop Off Map
Please pull all the way forward when dropping off or picking up children.  Thank you for helping this process to go as smoothly as possible!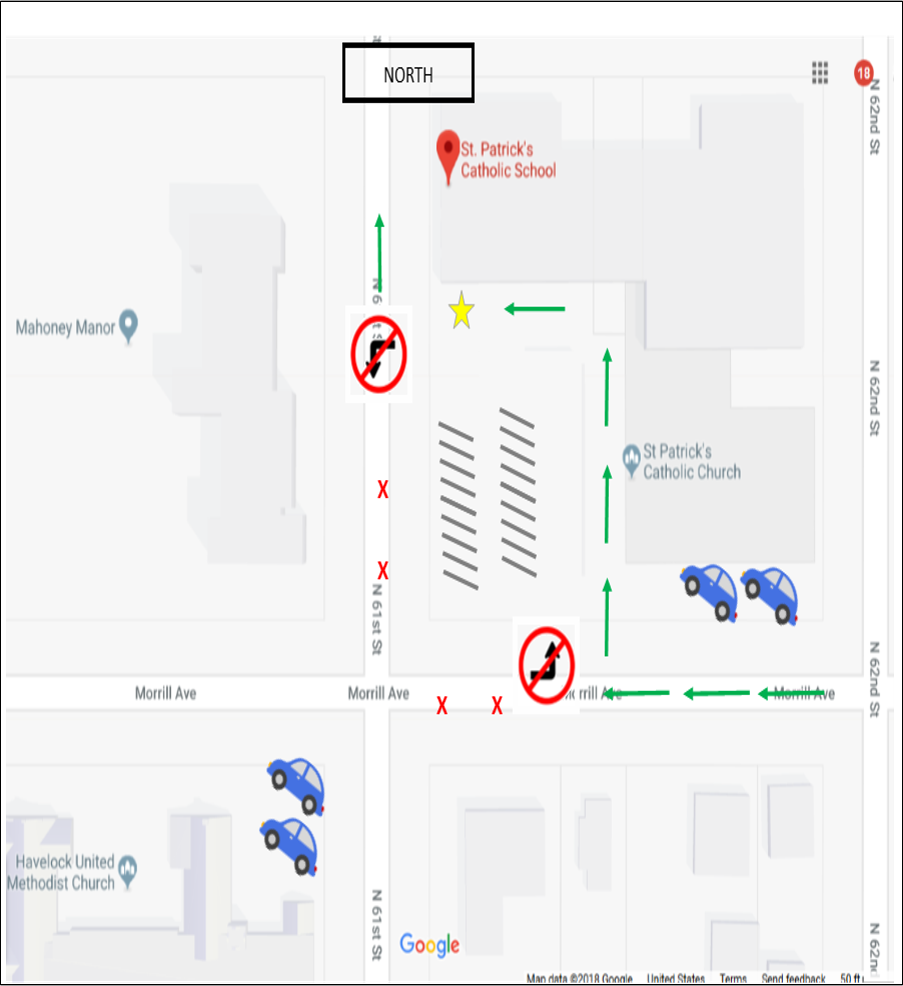 ---
School Lunch
All account information and payments are handled by MySchoolBucks OR you may call the finance office for additional information (402) 466-2752
Please complete the Free & Reduced lunch application.   The limits have changed so some families may qualify that have not in the past.  (see office for application)
 Junior High students who take extra milk and/or seconds are NOT included in Free & Reduced lunch.  Please ensure you have a MySchoolBucks account so you can be aware of these charges.
Transferring Schools with My School Bucks
Log into your My School Bucks account.
Click your name in the upper right-hand corner and go into "My User Profile."
Scroll down to "My School Districts."
Click "Add School District."
Provide the requested information to locate "St. Patrick Catholic School" then click "Add District." Leave the "Make this my primary district" box marked.
When you go back to your profile (follow steps 2 & 3 again), you will now see both your students' old school and St. Patrick Catholic School under "My School Districts."  St. Patrick should be marked with a yellow star as the primary school district.
Delete/remove the old school.  You are now set up with St. Patrick Catholic School.
Your school students will need to be relinked to your profile under St. Patrick Catholic School.  To add you students back in, you will need to go to the "Meal Accounts."  Here you will be able to add each individual student in your family.  Fill in the requested information about your child for the system to link your child to your profile.
---
Athletics
Introducing a mobile-friendly website for Catholic School athletics, www.cysi.org
League Information & Rules, League Policies, Registration & Participation Forms, Mission Statement, Philosophy, Sports Calendar (that is constantly being updated), and much more. In addition to our own league's information, you will find material on the football and wrestling programs at Pius X High School.
If you have any questions please do not ever hesitate to reach out to our school's Athletic Director – Mr. Ryan Mackling