School Day Basics
The school day runs from 8:00 – 3:20.
Students can be dropped off beginning at 7:40 and will gather on the south side of the school with Mrs. Placek. Doors open at 7:45.
Students should be picked up by 3:30.  Students who are not picked up by 3:30 will be checked in to extended care.
Students arriving after 8:00 are counted as tardy.  Please call or email the school if your child will be absent.
Students needing extended care are welcome from 7 a.m. to 6 p.m. at a rate of $0.85/15 minutes ($3.40/hour).
Please do not remove cones from the parking lot as they are used to keep cars out for school recess
Pick Up – Drop Off Map
Please pull all the way forward when dropping off or picking up children.  Thank you for helping this process to go as smoothly as possible!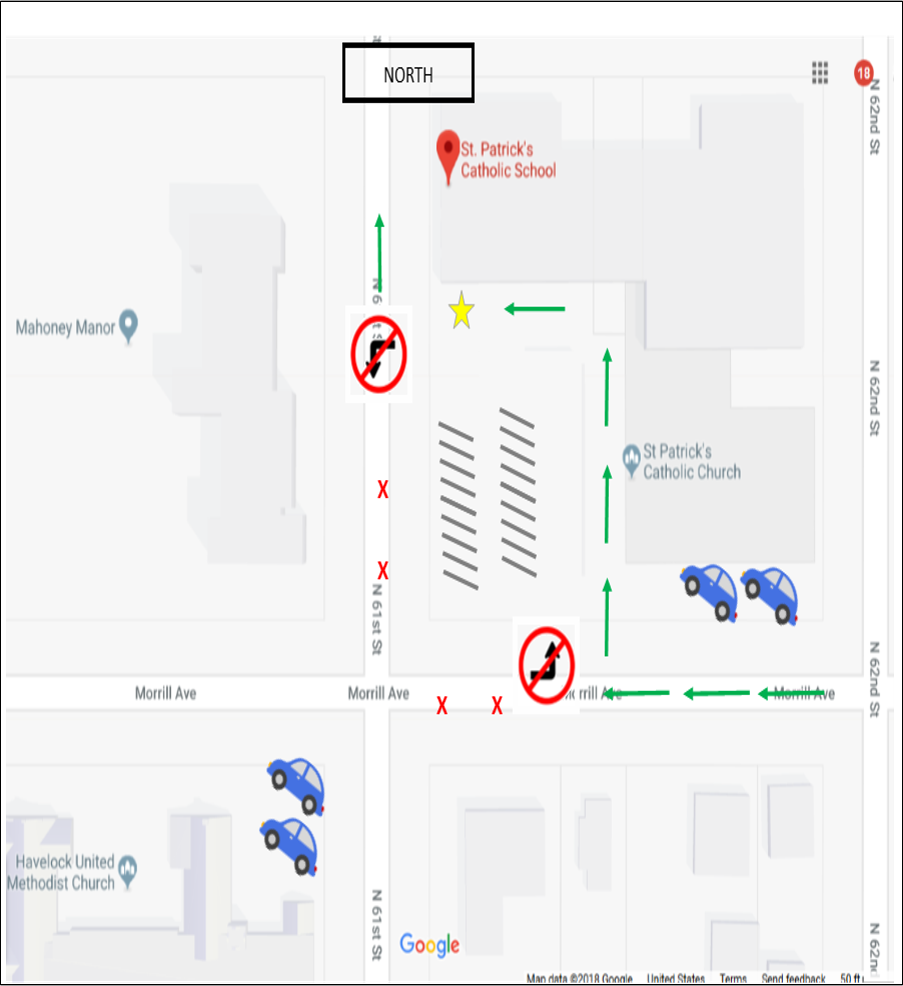 School Lunch
All account information and payments are handled by MySchoolBucks OR you may call the finance office for additional information (402) 466-2752
Please complete the Free & Reduced lunch application.   The limits have changed so some families may qualify that have not in the past.  (see office for application)
 Junior High students who take extra milk and/or seconds are NOT included in Free & Reduced lunch.  Please ensure you have a MySchoolBucks account so you can be aware of these charges.
Transferring Schools with My School Bucks
Log into your My School Bucks account.
Click your name in the upper right-hand corner and go into "My User Profile."
Scroll down to "My School Districts."
Click "Add School District."
Provide the requested information to locate "St. Patrick Catholic School" then click "Add District." Leave the "Make this my primary district" box marked.
When you go back to your profile (follow steps 2 & 3 again), you will now see both your students' old school and St. Patrick Catholic School under "My School Districts."  St. Patrick should be marked with a yellow star as the primary school district.
Delete/remove the old school.  You are now set up with St. Patrick Catholic School.
Your school students will need to be relinked to your profile under St. Patrick Catholic School.  To add you students back in, you will need to go to the "Meal Accounts."  Here you will be able to add each individual student in your family.  Fill in the requested information about your child for the system to link your child to your profile.
Meet the Staff
Thank you to all of the families who joined us for our Back to School celebration!  Check out our amazing 2019-20 School Staff HERE
---
Dine Out Night

What better way to kick off the school year then with delicious frozen yogurt and an assortment of fun flavors and toppings?! Join us for the first dine out fundraiser of the academic year!!!
Tuesday, August 20th at Yogurtini 233 N. 48th St. Suite J, Lincoln, NE.
15% of the sales between 5 and 9 pm will go to St. Patrick's school. Remember to mention St Patrick's when you order. Hope to see you there!
---
Fundraisers

Throughout this year, St. Patrick's School will be collecting Box Tops and Coca Cola product codes to raise money for our school! When you buy Coca Cola products go to the Coca Cola Website, search for St. Patrick School, or type in the zip code 68507, scroll down to the one in Lincoln NE and then enter the Coca Cola product code under the bottle cap on your computer screen or scan it from your phone. The first time you do this you will need to make an account with your email or Facebook profile. The amount Coca Cola gives to the school per code is listed in this tool kit.
---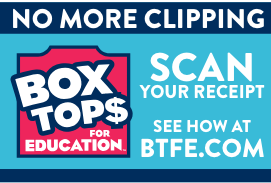 Box Tops are going digital! You can download the app Box Tops for Education, register and select St Patrick's School, and then scan eligible receipts containing Box Tops products. Like before, it's 10 cents per Box Top and there are also bonus earning opportunity through the app. You can also earn money for online purchases by forwarding your email receipt to receipts@boxtops4education.com. Here's a list of online retailers that are eligible: Instacart, Jet.com, SamsClub.com, Shipt, Target.com, Target Pick-Up/Drive-Up, Walmart Grocery, Walmart.com.
There are still traditional Box Tops on products as they are being phased out and these are still eligible to be clipped and dropped off at school until they expire. You can also double dip during this transitional phase by both clipping the Box Tops and scanning the receipts. Some brands are not yet participating in the digital program and these will need to be clipped as usual including Hefty, Kleenez, Progresso, Reyolds, Scott, Ziploc and Finish.  Look for the traditional pink Box Top to determine if it needs to be clipped. The digital Box Tops are blue and red.
For more information visit Box Tops Digital Sneak Peak.
---
Athletics
Introducing a mobile-friendly website for Catholic School athletics, www.cysi.org
League Information & Rules, League Policies, Registration & Participation Forms, Mission Statement, Philosophy, Sports Calendar (that is constantly being updated), and much more. In addition to our own league's information, you will find material on the football and wrestling programs at Pius X High School.
If you have any questions please do not ever hesitate to reach out to our school's Athletic Director – Mr. Ryan Mackling
---
Schmoker Reading Program